2021 Toyota Venza
Toyota Venza first came out in 2008 and was launched as an alternative to a crossover SUV. Incidentally, production was discontinued in 2015, and the return is now in 2021. Available All-wheel-drive (AWD) for all models. With this vehicle, Toyota wants to raise the bar even higher for highly efficient engines for high-performance SUVs. The interior and the luxurious handling of this vehicle make it exceptional. Venza has to offer through this article.
Trims available for purchase at Rocky Mount Toyota:
LE, Limited, and XLE are the three models in which the 2021 Toyota Venza will be available in the US market. The car now comes with a 150,000 mile / 10-year warranty on its lithium-ion battery. Charging your battery is very easy thanks to selective regenerative braking. This vehicle fits perfectly between the Toyota RAV4 and the Toyota Highlander.
Engine Details:
The 2021 Toyota Venza is powered by a 2.5 liter 4 cylinder engine connected to three electric motors. This full drivetrain setup is good enough to get 219 horsepower. There is a lithium battery under the back seat of the Venza. A 2-speed CVT (continuously variable transmission) with a fuel efficiency of 40 MPG. Three driving modes, namely Sport, Normal, and Eco, are available for the 2021 Venza; a mixture of petrol and electric drive ensures that the vehicle moves smoothly and the navigation system.
Exterior Appearance:
The flowing lines of the design are visible on the outside. The LED daytime running lights have been tastefully done here, with LED headlights available for the Limited equipment. Beautiful silver trim is located directly under the headlights. The Toyota badge Hybrid is on the beautiful grille It has a unique luxurious and aggressive look on the front. The hood of the Venza 2021 is raised quite a bit and the hybrid badge is present on the side. While the LE is equipped with 18-gauge alloy wheels, the XLE and Limited equipment feature 19 alloy wheels. It is interesting to note that the grill area appears to resemble Lexus vehicles. This hybrid SUV looks amazing on the outside as well as the inside. LED taillights run the entire length of the trunk. Overall, a vehicle with many curves from all angles. In 2021, Venza customers can choose from six exterior colors.
Interior Beauty:
The 2021 Toyota Venza's interiors are wrapped in either synthetic or real leather. Rear features include:
28.8 cubic feet of Rear Cargo Space
Hands-free Tailgate (XLE and Limited)
Other features inside are:
Smart Key Access
Comfortable and Ventilated Seats (XLE and Limited trims)
Frosted or Clear Panoramic Glass Roof (Limited)
High Quality of Interior Materials
12.3-inch Touchscreen Infotainment System
Wireless Charging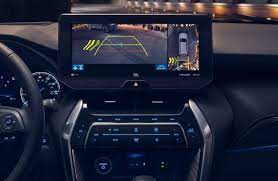 Safety Features:
Advanced safety features for the 2021 Toyota Venza include:
Blind Spot Warning
Automatic Emergency Braking
Forward Collision Warning
Pedestrian Detection System
The surround-view parking camera system
Lane Keep Assist
Rear Cross-Traffic Alert
Adaptive Cruise Control
Lane Departure Warning
Traffic Sign Recognition
To learn more about the 2021 Toyota Venza available at Rocky Mount Toyota, visit their website: https://www.rockymounttoyota.com/2022-toyota-venza/